News Input by:- Janvi Panjwani
In our  Inner wheel Social Entrepreneur series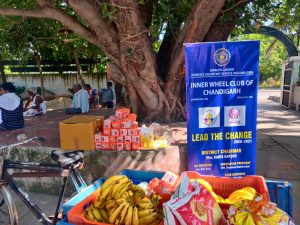 in this episode we are introducing you a very dynamic and and iron lady of Chandigarh yes we are taking about Sunil Garg who is ISO and in IWC Chandigarh and a Social entrepreneur. She firmly believes in Social service and charity work. During this difficult time of pandemic she proved herself to support pandemic affected people.
Sunila Garg while sharing about the charity work said , "
1.Total 1100 face masks were sent to Leh
Food packets distributed to covid patients who are under quarantine.
2. Ration packets and utensils are given to 15 families where nobody was there to earn.
3.Given cleansing materials- phenol,lizol,mops,brooms sanifresh , detergent, bathing soap, toothpaste etc. to inmates of old-age home and orphanage at this tuff time.
4. A colony was burn at saketri which is revived IWC Chandigarh installed 5 solar lights to help the people over there.
5.Water bodies at outskirts of Chandigarh got cleaned by IWC Chandigarh at this tuff hour to help the people over there.
6.our club honour police personnel,army jawans, frontline warriors.
7. Organized Langer at colonies .
8.A mass drive to distribute. food,milk,woollens,shoes etc. was also run by IWC Chandigarh .
When asked about the challenges faced during pandemic, Sunila Garg said, "It is really a very challenging time to collect the donations and then to go for distributions,but very satisfying to set some happiness at some faces."
By addressing the people Sunila Garg said, "Only message at this time is one should come forward to help the way one can,seva and seva in any form."
Brief introduction of  Information Inner wheel :
International Inner Wheel Club is an international women's organisation to create friendship, service and understanding. It has clubs in over 100 countries with over 100,000 members.IWC has very strong presence in India. It has more than 3000 thousands clubs in Urban and rural India. Since the Covid 19 Pendamic breaks out Inner wheel club launched charity campaign worldwide.
Notably, Inner wheel club is an active and vibrant organisation that aids the poor and needy people even in nature's calamity.