As a Woman Entrepreneur in the present time, a woman is breaking through the traditional perspective of binding to the four walls of the home and move forward from the limited business regions.
Today Women Entrepreneurs have a link with new and emerging ideas, deals and demands.They are moving to various spheres of business dominated by men.
Many Women are into Fashion Designing, into Jewellery and many brands such as beauty products etc etc.
Group picture of women Entrepreuners who attended the Exihibition.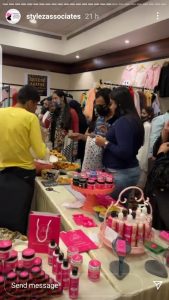 Stylez Associates held an Exhibition on 7 August 2021 at Hotel Sahil, in South Mumbai  to Shop under One Roof amazing brands Designer Dresses Lucknowi Dresses Makeup, Kids Wear, Accessories Jewelleries Real Gold and Diamond Jewellery Home Appliances Cooking Masalas, Beauty Products, Mehendi, Desserts, Chocolates and lot more. This Exhibition was held keeping in mind the Women Empowerment.
Stylez  Associates regularly hold Exhibitions on various products to draw people to visit and shop for their needs and leave with satisfaction of having shopped for genuine products. Stylez Associates believe in "Quality" not in price.
Hello Womeniya Team took the opportunity to catch up with both Husna Feroz Dhorajiwala to be briefed more on the purpose of the Exhibition..
While Speaking with Hello Womeniya Husna Feroz Dhorajiwala & Ruksana Akhtar Upletawala said," Today Women Entreprenuers are gifted with business acumen and they are really doing well in the business world. Our main purpose to organise this Exihibition was to promote Women Entreprenuership and Women Empowerment.
We were privileged to have got a very good response. Infact, our Platform helped them to promote their business and Network ".
Heena Rahil Johari Founder of Vaff Virtual Academy and popular face as Woman Entreprenuer who attended this Exihibition as a Chief guest stated that " Exihibition has off late emerged as a very big market for Women Entreprenuers and with pride I would say that Stylez Associates are doing a fantastic work for Women Entreprenuers. Such type of Platform gives us and also other Women Entrepreneurs a big business opportunity to promote our business and helps us to enhance our business network also."I express my gratitude to Stylez Associates for having invited me for the Exhibition".
News Edit by K.V.Raman