Women Social entrepreneurship is vital for our future. Collectively we can make a change by closing the gap between men and women in the workforce. Entrepreneurs are those adventurous, daredevils who drive deep into the pressing problems of society and try to find solutions to them, not by leaving the responsibilities in the reins of the government or business, but by trying to change systems as whole and persuading societies to take new initiatives.
In our Social Entrepreneur series today we are introducing you a very dynamic and popular Social Entrepreneur of Mirzapur she is known for her remarkable and outstanding performance in social field particular in Inner Wheel Club who always believes in Women Empowerment and social entrepreneurship. Yes, we are talking about Mrs. Rajni Gupta, President of Inner Wheel Club of  Mirzapur samanvay, District 312, she shared her Service and Charity Project with Hello Womeniya Team.
Key Highlights of Service Project:
Project 1: 
Distributed 55 table and chairs in a government school.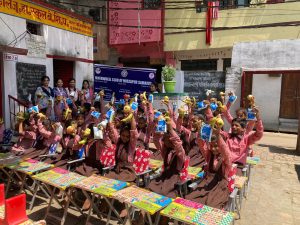 Project 2: 
Cleanliness of River Ganga
We focused on development towards cleanliness and awareness program to keep Ganga clean and tried to make few important events easy for the public which are celebrated on the ghats and river side.
Project 3: 
We made changing room at the Ganga Ghat – It becomes diffcult for the ladies to change after taking bath at the Ganges , so we took this decision to install changing room at the Ganga ghat.
Project 4: 
Our club gave a cycle to a needy girl : We always try to encourage women empowerment inorder to motivate girls to move forward and follow their dreams. So we decided to give cycle to a girl to give wings to her dreams.
Project 5: 
Distributed 250 blankets to needy people
Project 6: 
We provided most of the necessary things in the old age home entire year.
1. Portable Commode
2. Sarees
3. Inner wear
4. Sweaters
5. Shoes and slippers
6. Food supply for a month
7. Organised eye check up camp
8. Distributed spectacles etc
Project 7: 
Branding on wheels: Inorder to make people aware of our Innerwheel club we did branding on Wheels, the vehicles moved around the city with loudspeakers on promoting our club.
Project 8: 
Setting up of public amenities. We installed ladies toilet to stop people relieving and defecting in open.
Project 9: 
Distributed necessary food items in the city: Distributed 150 food packets and 150 milk packets in the city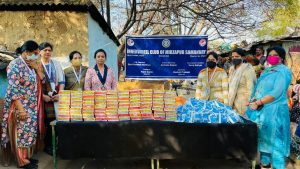 Project 10: 
Our club Helped a family in their daughters wedding: Provided all the necessary things required in a girl's wedding
Brief Introduction of International Inner Wheel:
International Inner Wheel is an international women's Social organisation to create friendship, service and understanding. It has clubs in over 100 countries with over 100,000 members. IWC has very strong presence in India. It has more than 3000 thousands clubs in Urban and rural India. Since the Covid-19 Pandemic breaks out Inner wheel club launched charity campaign worldwide. In our Inner wheel Social entrepreneur series in this Episode we are introducing very popular face of IWC; she doesn't need any kind of Introduction.