Ramzan always reminds one of the mouthwatering dishes and fried items which one gets to see and eat only during Ramzan. They are very much irresistible that temptation leads one to consume everything.
Mohammad Ali Road as well as the adjoining lanes in Muslim areas are scattered with delicacies of food. But will lockdown stop one from having feast called Iftaar? Well not really, you can have a lockdown but can't lock the food lovers from eating.
Miss Farhana Ashraf an English Lecturer at Thakur Vidya Mandir High School and Junior College and a writer is usually habituated to buying food from outside because her busy schedule doesn't allow her to cook much. However, these days with the help of recipes available online on YouTube, she makes all the tasty food for her family for Iftaar that includes a wide range of varieties such as Kebabs, Ragda, Chhole, Chicken, Mutton, some healthy veggies and so on with a new dish every day that she enjoy cooking.
She feels that the lockdown period has come as a blessing in disguise from Almighty Allah to spend more time in cooking and serving the various Iftaar dishes to her family.
Sana Qureshi an entrepreneur, herself believes that during Ramzan one should have healthy food and not those rich and sumptuous dishes; because fitness and health is very important. Infact, she is health freak and enjoys Iftaar with her family. Her dishes include Chicken, Dahi Wada and Sandwiches. But her Iftaar mostly comprises fruits and juices. She avoids much oil and sweet items. She feels it is very important to have a healthy diet even in Ramzaan.
Dr. Mariam Hingora, the Chief of Maseeha Trust, currently resides in Bengaluru with her daughter, but even then amid lockdown and Covid-19 pandemic, she is a true Maseeha to the people. She and her daughter distributed Ramzaan kits which comprises of dal, aata, rice, oil, tea leaves and other essential items to the poor living in the slum areas. By now, they must have distributed more than 100 kits. Moreover, they have their Maseeha functioning in Mumbai as well in the areas of Mohammad Ali Road and Mumbra.
She and her daughter also love to partake home-made food which includes all kinds of veg and non-veg delicacies as well as Hareese a specialty of South India.
It's her feeling that since God has blessed her with abundant comfort she needs to spread it to others as well, as a true Maseeha, isn't she?
News Reported By: Nazia Syed.
Images Of Iftar Dishes.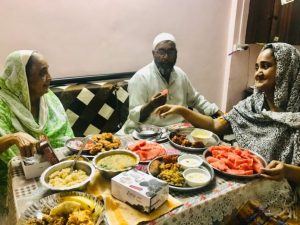 Farhana Asharaf With Her Family On The Time Of Iftar.
Sana Qureshi Doing Iftar With Her Children.