Harnaaz Kaur Sandhu made India proud by bringing the Miss Universe crown back home after a 21-year long wait. In an exclusive chat with
 Host / Actor Karan Singh Chhabra
, Sandhu spoke about her inspiring journey, how she managed the ups and downs of her life, advice to the youth, Pawan Malhotra and Shah Rukh Khan being her favorite actors from the world of theatre and bollywood, the social causes she would stand for, living in new york for the next one year, love for their hometown i.e. chandigarh and much more.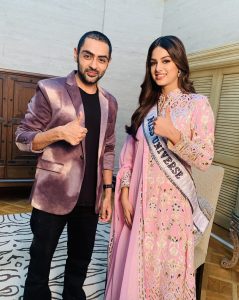 "When two punjabi's share the screen, the energy is infectious. We spoke in Punjabi only throughout off screen and connected instantly"  said Karan who is also from chandigarh, after wrapping up a shoot for
the asian variety show for the overseas market. "I was so happy to know when she shared that she had seen some of my interviews with Aishwarya Rai Bachchan and Priyanka Chopra whom she considered her inspirations for the pageant "  he added. 
You may also read: